Gutter Cleaning Is Coming!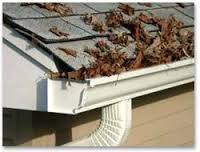 Fall arrived early in my neck of the woods.  Where did summer go??  Temps have been consistently in the 60s in the morning and as low as the 40s at night. Brrrrr! I'm not ready for it! Leaves are changing colors and will soon be cluttering our yards and gutters as they fall gracefully from their stems. Sounds nice, right? Maybe for the trees who get to sleep all winter, but not so much for those of us who gotta clean it up!
Gutters cluttered with leaves are of no use to you. In fact, they create problems when they create a dam and don't allow water to flow through properly. The built up water ends up on your roof and potentially or eventually in your attic, on your ceilings, walls, and floors. The damage can be quite costly.
Gutters should be cleaned out at least once during the fall to prevent the water damage they can cause if not maintained. Even if you don't have trees on your property, your neighbors probably do – and if they don't, it still doesn't hurt to take a look to make sure birds didn't build a nest in there or your dog's tennis ball didn't end up there.
(Confession time: I know there is a tennis ball in the gutter around my garage because I can't throw a ball to save my life. My dog will be SO excited when my husband gets up there and finds it.)
My point is: Get up there and check! Pick a warm, dry day. If you don't have the resources or the willpower or there's a Snapped marathon on, google gutter cleaning services. They're not too expensive and it's well worth it to avoid the potential damage to your roof.