What's the Cost of Water Damage Restoration?
If you've experienced a major water damage event, one of the first things you'll want to do is to find out how much the cleanup will cost.
For some home repairs all you have to do is pick up the phone and gather a few free estimates. But estimating the cost of a water damage event is more complicated. Most of the time a water damage restoration company will need to come to your home and make a thorough inspection before an estimate can be calculated.
This is standard procedure since many factors have to be taken into consideration when calculating the cost of a cleanup project.
One factor is identifying what kind of water has caused the damage. You might think that water is water, but that's not exactly true.
For home repair purposes, there are three categories of water:
Category 1: Also known as Clean Water, this is water from a clean water source, rain water or your kitchen faucet, for example. It's the simplest of the three categories to clean.
Category 2: Also known as Gray Water, this water usually comes from a malfunctioning appliance, your dishwasher or washing machine. It's grayish in color and often contains chemical or cleaning agents that would make it unsafe to drink. While it's generally not a serious toxic threat, it does require extra steps in the cleanup process.
Category 3: Also known as Black Water, is toxic water, generally from a flood or a sewage backup. This water usually contains toxins and bacteria. In the case of a severe flood, you may even have an invasion of wildlife, snakes for example. The protocol for cleaning and sanitizing a Black Water invasion is more complex and should always be done by professionals. Cleaning technicians will require special safety equipment: suits, breathing filters, and appropriate cleansers and gear to safely handle the sanitizing of your property. These precautions and extra steps will add to the cost.
Experiencing Water Damage?  Call Restoration Local At 1-888-443-3110!
Another factor to consider is the extent of the damage. Water damage restoration companies usually charge by the square foot, so obviously, the smaller the area affected the more affordable the cleanup will be. But it's not always easy to see the extent of the damage at first glance. Has a leak in an upstairs bathroom affected lower floors? Leaking pipes hidden within walls may pose more extensive problems than may first be assumed.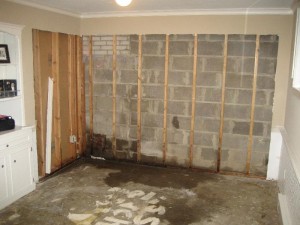 After the extent in space is confirmed, an inspector will gauge the materials affected. If, for example, the problem is confined to a basement level, an inspection will reveal if the water has seeped into any drywall or affected any structural supports. Materials that can be affected include: carpet, drywall, baseboards, and even structural supports. These may all need to be removed and replaced. This adds to the labor costs. The kind of materials factor into the cost as well. For instance, carpet is more expensive to replace than linoleum.
Time is another factor. Was there a lapse in time between the water event and the inspection? If so, a water damage restoration professional will check for the growth of mold. If mold is present, that requires its own protocol of cleaning steps.
Only after a thorough inspection is completed can a water damage restoration company estimate a cost for the cleanup process.
However, here are some general numbers to keep in mind:
Water Damage Restoration Costs per square foot to dry out and clean up a home:
Category 1 Clean Water: $3.75 per square foot
Category 2 Gray Water: $4.50 per square foot
Category 3 Black Water: $7.00 per square foot
If your basement has flooded, your cost can range anywhere from $500.00 to $10,000.00 or more, depending on the square footage, the materials affected, and the depth of the flood water. In general, one to four inches of water will cost $7,800.00 to clean up, nine to twelve inches will cost nearly $19,000.00, and at eighteen inches the cost can be over $26,000.00.
The average cost of drying only is: $2,700.00.
The average water damage insurance claim runs to: $7,500.00.
That brings up a good question: Will insurance cover the costs? The answer is: Most of the time depending on the situation.
Read your homeowner's insurance policy carefully and check with your agent. Did you purchase flood insurance? Or is your policy a simple home insurance policy covering standard problems?
Was the damage your fault? Insurance companies expect policy holders to take precautions against water damage. For example, did you neglect to replace a hot water tank that was in a state of disrepair? If the answer is yes, you may be responsible for the entire cost of the repairs.
If you have flood insurance, you should be covered by water damage events caused by an invasion of outside water or mud. Homeowner insurance typically does not cover flood damage, but it may cover damage caused by less extreme problems from Mother Nature such as hail breaking a window and water damage ensuing.
Remember that time is of the essence. Water damage that is not quickly addressed becomes an ongoing event and the cost can soar. If untreated, water damage will almost certainly trigger a mold outbreak, and we all know from our junior high school science experiments that mold grows and spreads. Mold growth in a home is a health hazard. In addition, dry rot can set in, destroying wooden supports and a host of other materials. You could end up with severe structural damage that could have been prevented.
Don't pretend the problem will go away on its own. Take action as soon as you become aware of the problem. Know that the costs can be substantial, but they will undoubtedly be higher if you wait.
Do a little research. Find a water damage restoration company that is certified by the Institute of Inspection, Cleaning, and Restoration Certification (IICRC). Our trained professionals can dry out your home, remove affected materials, and save you money in the long run. Call us today at 1-888-443-3110 for a free water damage estimate.
CALL RESTORATION LOCAL NOW FOR YOUR 24/7 FREE ESTIMATE AT 1-888-443-3110!