Winter Weather Emergency Preparation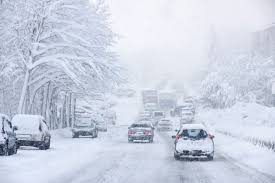 With this Thursday being the official start of winter, it becomes important to look ahead and make some manner of preparations for what could conceivably happen.  Snow and ice can strand you in your home for a prolonged period, unable to get to the local market or pharmacy.  Proper planning while the skies are still clear can make for a much more effective, if not necessarily pleasant, residential incarceration later on.
The good news is that winter weather rarely comes unexpected.  In most cases, you have a period of several days notice before the snow starts to fall.  When your local news outlet begins talking about winter weather, take time to check your supplies.  If you are running low on anything vital, replace and restock immediately.  Don't wait.  News reports every year are replete with footage of people clearing out grocery and hardware stores in advance of approaching storms, and you don't want to be caught up in that sort of a stampede.
Have a plan to deal with severe winter weather.  If you stay put, be sure you're stocked up for a long winter's night (or perhaps several).  If you choose to go elsewhere, know in advance where you are going, and pack enough provisions to sustain a period of several days away from home.  Clothes, cash, important documents, etc.  You will also want to make sure that your pets are provided for.
Remember that it is also quite common for power to go out during winter storms, so have plenty of candles available, as well as batteries for flashlights, radios, or other electrical items.  Make sure your propane levels are adequate so you can have heat during this time, and it probably wouldn't hurt to pick up a couple of space heaters as well.  If the worst happens and the heat does go out, pile on the warm weather clothing, in layers, and have plenty of blankets available for each family member.
If you do decide to leave your home, do your best to do so before the snow comes.  If that isn't possible, then make sure your vehicle is properly prepared for travel in severe conditions, with plenty of gas, anti-freeze, and a well charged battery.  Ice scrapers, jumper cables, flares, and tire chains are also highly encouraged.  You should also have a supply of food and bottled water available in case you become stranded and have to take up temporary residence in your vehicle.  Also, remember that driving in snowy or icy conditions is not the same as a Sunday drive in the country…..you should drive very slowly and give yourself plenty of time to slow down and stop or make course corrections.  Remember that Old Man Winter does not forgive many mistakes.
You should also stay tuned to your local TV or radio stations to stay informed on rapidly changing weather conditions.
If you discover that your home or business has suffered water damage by snow or ice, a burst pipe or any other means, contact Restoration Local 24/7 at 1-888-443-3110 for a free estimate!  Melting snow and ice account for thousands of cases of water damage every year, damage which will only become worse until it is properly treated.