As we approach peak hurricane season in Florida and the Gulf region, it's important to familiarize yourself with hurricane precautions and safety tips. While the Atlantic hurricane season is June 1 through November 30, mid-August to late October is the peak hurricane season. You should prepare for peak hurricane season as early as possible, as stores and gas stations are likely to run out of items and gasoline in the days before, during, and after a hurricane.
Hurricane and severe storm damage? Call
1-888-443-3110
now for a contractor near you.
Review of the 2018 Hurricane Season
Most weather organizations called for a more active than normal season, predictions which proved true. The season saw 15 named storms, 8 hurricanes, and 2 major storms. It was the fourth consecutive year where storm cells formed before the official start of hurricane season on June 1st.
Hurricane Florence, a category 4 hurricane at it's strongest point, caused extensive flooding throughout the Carolina's and along the mid-Atlantic. It was especially devastating along the rivers, with some areas taking more than a month to completely subside. Florence resulted in 54 deaths and more than $24 billion in damages across the country.
The only category 5 storm of the season, Hurricane Michael affected Central America, the western Caribbean, Florida panhandle, and much of the east coast. It claimed nearly 60 lives and caused more than $25 billion in damages in the United States alone, with more deaths and destruction in other areas.
Predictions for the Peak of the 2019 Hurricane Season
On August 8th, the National Oceanic and Atmospheric Association released their updated predictions for the 2019 hurricane season. They indicated a 45% chance of an above-average hurricane season, up from 35% at the beginning of the season. They added that there are a 35% chance of a normal season and a 20% chance of a below-average season. Their prediction calls for 10 to 17 named storms, with 5 to 9 hurricanes. They expect that 2 to 4 of those hurricanes will be major storms at least category 3 or better.
Hurricane Terms and Phrases
Understanding these key hurricane-related terms and phrases will help you prepare and keep your family and property safe during peak hurricane season.
Tropical Depression
A tropical depression is a type of tropical cyclone storm that occurs in the North Atlantic Ocean. It is characterized by thunderstorm activity with maximum sustained winds below 39 mph.
Tropical Storm
A tropical storm is a type of tropical cyclone storm that occurs in the North Atlantic Ocean. It is characterized by thunderstorm activity with maximum sustained winds between 39 and 73 mph.
Hurricane
A hurricane is a type of tropical cyclone storm that occurs in the North Atlantic Ocean. It is characterized by thunderstorm activity with maximum sustained winds above 74 mph. Throughout most of the world, hurricanes are referred to as typhoons and cyclones.
Watch
A watch means that a storm or hurricane is possible within the specific area. Watches are issued 48 hours in advance of the anticipated storm to ensure you have enough time to adequately prepare. If the National Hurricane Center issues a hurricane watch for your area, check your emergency disaster supply kit, review evacuation routes and your emergency preparedness plan, and listen to local officials.
Warning
A warning means that a storm or hurricane is expected within a specific area. Warnings are issued 36 hours in advance of the anticipated storm to ensure you have enough time to adequately prepare. If the National Hurricane Center issues a hurricane warning, comply with evacuation orders from local officials and inform friends and family of your evacuation plans.
Feeder Bands
Feeder bands are the arms or fingers of the storm that radiate out from the center. These bands will bring strong winds and heavy rain. Warm ocean water will help intensify feeder bands, as well as the hurricane overall.
The Eyewall
The eyewall is near the center of the storm and usually has the most severe winds and intense rain. Winds are likely to move towards the center of the storm and then upward into the cloud layer above.
The Eye
The eye is the center of the hurricane, which normally has significantly more calm winds. Wait until you are positive the storm has passed before leaving your shelter, as you may be in the eye of the storm with another intense band coming along.
Storm Surge
As a hurricane or other storm makes landfall, it causes the ocean to swell and flood inland. The surge is usually strongest to the right of the eye of the hurricane. Depending on the severity of the hurricane, storm surges may strike further inland.
Hurricane Categories
The Saffir-Simpson Scale was created by civil engineer Herbert Saffir and meteorologist Robert Simpson to quantify the effects of a hurricane. Understanding these categories will help you prepare for peak hurricane season in Florida and the Gulf states.
Category 1
Sustained winds ranging from 74 to 95 mph that will produce some damage.
Category 2
Sustained winds ranging from 96 to 110 mph that will cause extensive damage.
Category 3
Sustained winds ranging from 111 to 129 mph that will cause devastating damage.
Category 4
Sustained winds ranging from 130 to 156 mph that will cause catastrophic damage.
Category 5
Sustained winds greater than 157 mph that will cause catastrophic damage.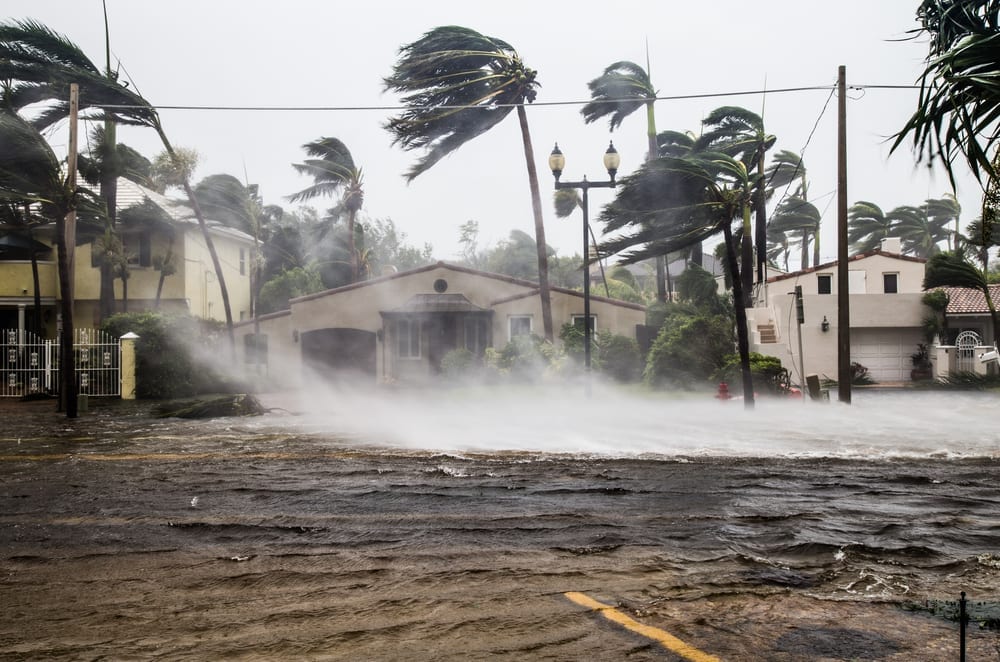 How to Prepare For Peak Hurricane Season
As we enter peak hurricane season in Florida and throughout the Gulf States, here are a few things you can do to prepare before there is a threat of a storm.
Plan Where You Will Go
Plan at least two evacuation destinations in advance should local officials order an evacuation. By having a few options, you can adjust depending on the path of the storm.
Pack a Hurricane Emergency Kit
Pack clothes, toiletries, copies of important documents, first aid supplies, a flashlight, a phone charger, and some money. Keep a checklist of medications, documents, supplies and other items you can't pack in advance with the bag so you don't forget them.
Stock Up On Supplies
In case you don't need to evacuate, stock up on shelf-stable food, bottled water, a radio, batteries, and toilet paper. By planning in advance, you can avoid the rush when the National Hurricane Center issues a hurricane watch or warning.
Have a Communication Plan
Have a plan in place for communicating with your immediate family, as well as friends and family in the area and across the country. Talking with them in advance will save time and limit confusion before, during, and after the storm.
What to Include in a Hurricane Emergency Kit
If you haven't already packed an emergency kit, you should do so now to keep your family prepared and safe as we enter peak hurricane season. Review your kit, test batteries, and check the expiration dates on food items as soon as a hurricane watch is issued for your area.
Food and Water
Include at least 3 days worth of non-perishable food and water in your hurricane emergency kit. For more severe storms, consider extending that to 5 or even 7 days. Always store food in a water and animal proof box. If you have pets, remember to include enough pet food and water for their needs as well.
Medications
While it may not be possible to pack medications in your hurricane emergency kit in advance, gather them in a central location as soon as a storm watch is issued for your area. They should be one of the last things you pack before taking shelter. Don't forget about medications for your pets as well.
First Aid Kit
Whether you buy one or pack your own first aid kit, always have first aid supplies in your hurricane emergency kit. Your kit should include self-adhesive bandages, sterile gauze pads, adhesive tape, small scissors, an antiseptic, hydrocortisone cream, acetaminophen, and ibuprofen.
Hygiene Items
While a small supply of hygiene items aren't necessary during the storm itself, they may be helpful after the storm or if you are traveling to a shelter. Forgo vanity products like hair gel and makeup in favor of toilet paper, toothpaste, toothbrushes, deodorant, and soap. Also, we recommend bar soap because it lasts longer and is smaller. If you or someone in your family wears contacts, keep an extra contact case and storage solution with you.
Clothing
While you shouldn't overpack, having a small bag of clothes can help you stay comfortable during and after a storm. We recommend a single change of clothes, a few sets of undergarments, and perhaps a raincoat for each person in your family. If you are evacuating, you may want to pack a few more sets of clothes.
Flashlight, Radio, and Batteries
We recommend that you keep a flashlight and a radio in your hurricane emergency kit. Use the radio to get updates during the storm and the flashlight to illuminate your shelter. Make sure you have extra batteries as well. We prefer flashlights and radios that use the same size batteries, as this saves space and prevents confusion in an emergency. Depending on the size of your family, you may want to have a few flashlights or even a larger lantern.
Cell Phone Charger and Cables
Another item to keep in your hurricane emergency kit is a battery backup charger for your cell phone in case of a power outage. While USB battery packs are common, models that use AA batteries are also available. Make sure you have all the necessary charging cables as well.
Charge your devices whenever you have the opportunity and try to conserve battery power as much as possible. Switch your phone into airplane mode or even turn it off. Avoid using your phone for entertainment, because games, music, and videos will drain the battery faster. If there are several people with a phone, consider only having one device on at a time to maximize your battery life.
Money and Important Documents
It's always a good idea to have some cash in your hurricane emergency kit for after the storm. This ensures you are able to buy food, gas, and other necessities in the event the power remains out for several days after the hurricane or storm. A mix of smaller bills is preferable to a few large bills, as this makes it easier for stores to give change.
You should also secure your important documents, including social security cards, birth certifications, insurance cards and documents, and your passport in a watertight bag. While you can buy document storage containers, nesting them in a few zip-top storage bags works in an emergency. Also, they are less likely to get lost or damaged if you keep them with you.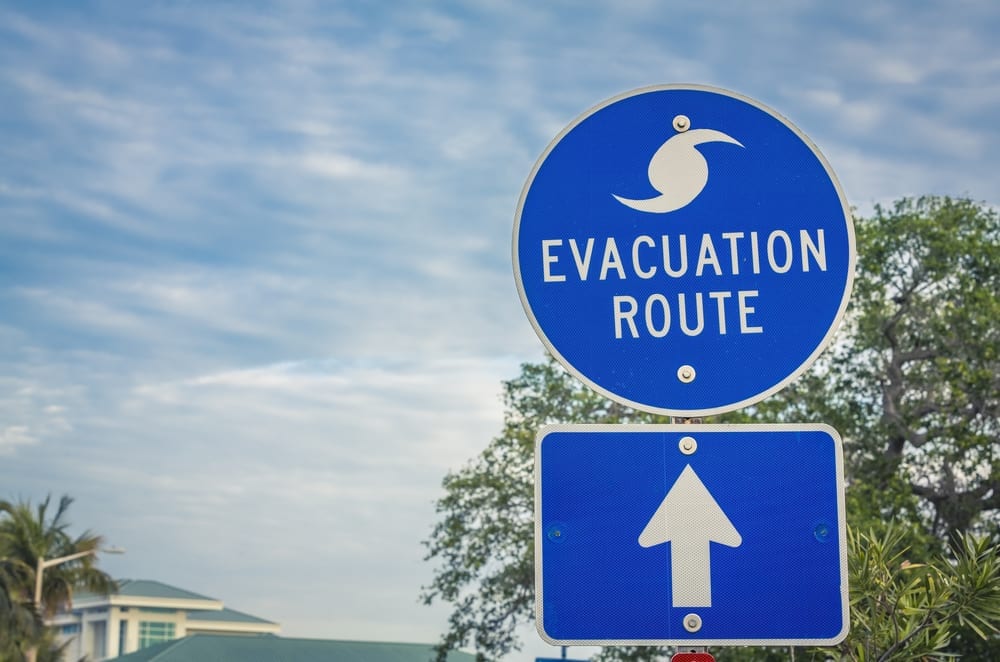 How to Secure Your Home Before a Hurricane
Winds from hurricanes and tropical storms can cause significant damage to your home. Even a tropical depression can break windows and damage roofs. The following list will help limit damage and secure your home before a hurricane.
Covering windows with hurricane shutters or marine grade ⅝ inch plywood
Install roof straps or clips
Reinforce garage doors
Clean gutters and check that downspouts are working properly
Trim trees and plants around your yard
Move patio furniture and other outdoor items inside or to a secure location
What to do When a Hurricane Warning is Issued For Your Area
If you live in areas prone to hurricanes and tropical storms, stay tuned to weather alerts during peak hurricane season. If a hurricane warning is issued for your area, take the following steps to keep your family safe and limit damage to your home.
Secure your home to limit damage from high winds and heavy rains.
Stayed tuned to weather alerts and the latest storm news.
Fill your gas tank. Consider storing extra gas for your car or a generator if you can do so safely.
Follow instructions issued by local officials. Leave immediately if an evacuation order is given.
Grab your hurricane emergency kit and remember to pack medications.
If you are ordered to evacuate, turn off your water, gas, and electric from the main shutoff valves and breaker boxes before you leave.
If not ordered to evacuate, take refuge in an interior room, putting as many walls between you and the outside as possible.
The eye of the storm may give a false sense of calm. Wait for the storm to pass completely before leaving your refuge.
What to do After a Hurricane Passes
Hurricanes can be stressful and even terrifying. While you may be eager to leave your shelter or return home, it's important to focus on your personal safety first.
Continue to listen to weather and news alerts. Do not return to your home or leave your refuge until given the all-clear by local officials.
Remain calm. The storm was stressful for everyone, including other residents and first responders. Avoid letting your frustrations get the better of you.
Limit driving unless absolutely necessary. Keep valid identification easily accessible. Always avoid driving through flooded areas and watch out for downed power lines and other hazards. Do not go sightseeing.
What to do if You Have Hurricane Damage
If you have water damage, a sewage backup, or mold after a hurricane or tropical storm, Restoration Local will connect you with a qualified restoration company in your area. We're the biggest network of restoration contractors, with listings for companies across the country.
Choose a water damage contractor from our directory now. Our directory includes independent companies and the most popular franchises, including DKI Restoration, PuroClean, Rainbow International, and ServiceMaster.
For emergency response, call 1-888-443-3110 now to speak with our on-call restoration contractor. They offer a free, no-obligation estimate, 24-hour emergency service, and 30-minute response time. Restoration Local don't just restore your home or business, we restore your life.