How Much Does Cleaning Up Sewage Cost
Sewage cleanup, as you can imagine, is not a one size fits all kind of job. A simple bathroom backup will probably be less expensive than a basement that has completely flooded with sewage. With the national average clocking in somewhere around $7 per square foot, this can help you determine what sewage removal services will probably cost. If your home has seen extensive damage as the result of a sewage flood, you may need more than just sewage removal to get your home safe and dry.
The Risks of Sewage in Your Home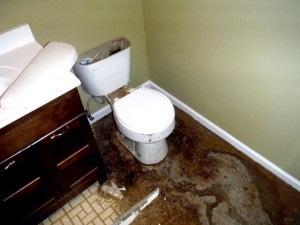 Sewage in your home qualifies as a serious emergency, and sewage emergencies graduate in severity. A small, contained toilet backup is likely the least dangerous, and a full flood with sewage in the water is one of the most dangerous. It doesn't matter how big or small your sewage problem is – any issue involving sewage needs to be handled without hesitation.
Sewage is dangerous. It contains millions of live bacteria that are capable of causing disease. If you have any open wounds, a compromised immune system, or respiratory issues, you should never attempt to handle sewage floods by yourself. Professionals use special equipment, including body suits, to protect themselves from the harmful microbes. They also use industrial grade germicides to properly sanitize the area, killing any bacteria that's been left behind.
Normal household bleach or sanitizing cleaners don't have enough power to get the job done right. Waterproof boots and gloves aren't enough to protect you from the risks of sewage. When it comes to the safety of your home and family, it's best not to take matters into your own hands. So many pieces of specialized equipment and serious cleaning compounds need to be used to properly handle the situation, and you're likely not capable of handling things on your own.
CALL NOW FOR A FREE ESTIMATE 1-888-443-3110
What You Can Expect
Even if you arrange for a water damage restoration specialist to come out and get to work immediately, you may still have suffered some irreversible loss. Paper products and other porous goods that have been exposed to sewage will need to be thrown away. They can't be properly sanitized, and it's a health hazard to keep them lying around. This is why it's inadvisable to store things like important documents or family photos in areas prone to flooding, such as the basement.
Everything else needs to be safely cleared and sanitized by a professional. Hard surfaces will be salvageable most of the time, provided the water hasn't sat enough to cause walls or floors to rot. The process, when done the proper way, is rather lengthy. You can't afford to miss anything when it comes to biohazardous messes, and the crew may take a long time to make sure everything has been handled to the highest standard of quality.
What You're Paying for With Sewage Removal Services
The first part of the process is the removal of water and sewage. Regular wet dry vacuums for home use won't be able to clear the material out effectively, and their capacities are very low. Professionals use a higher grade machine that's capable of thoroughly suctioning the area. Once all the sewage and water have been removed, the specialist will inspect the damage.
Carpeting may need to be completely removed, as well as the carpet pad. You can attempt to clean carpet, but in order to dry and sanitize the subflooring, the carpet needs to come out. If hardwood or laminate has begun to warp, ceramic tiles come loose, or linoleum is coming up, your flooring will need to be replaced. It's much easier to salvage any flooring that isn't carpet, provided you act immediately and the flood has not gone unnoticed for an extended period of time.
Walls work the same way. In the majority of cases, thorough structural drying can fix walls that haven't bloated irreversibly from sewage water absorption. The structural drying is necessary for sanitation as well as mold prevention. Mold can grow overnight and spread just as quickly, and the only way to prevent it from overtaking your home is by implementing proper structural drying immediately.
Your specialist will also check surrounding areas for damage. This is especially important if the flooded location has a lot of cabinets, or small spaces where water can become trapped. These will be subject to intense drying procedures, as water doesn't easily escape from areas that don't have adequate air circulation.
The specialist will identify the cause of the problem. If there's an issue with your sewer or septic connection or a burst pipe, this will be repaired during the process. Your specialist will work with a plumber to make sure the problem area is detected and repaired in order to prevent the issue from recurring.
Locating a Water Damage Restoration Specialist to Fix the Problem
When sewage water is pooled up in your home, you don't have time to contact damage restoration specialists, vet them for reliability, and compare their quotes. You need to do something immediately. You need to race against the clock before the damage spreads. Even a few hours of waiting can drive up the impact of the flood. The quickest, simplest solution is to let Restoration Local do the hard work for you.
At Restoration Local, we understand the overwhelming sense of urgency you feel when sewage has flooded your family's home. We work with hundreds of expert contractors across the United States, helping homeowners in difficult situations find a specialist who will be able to quickly and easily solve their problem. Emergencies happen at any time, and you can contact us 24/7 at 1-888-443-3110!
Once we get your call, we'll be able to set you up with a dependable expert who will be able to provide you with a free estimate. From there, you'll be able to proceed with your restoration project immediately. Time is of the essence, and you need to reclaim the safety and integrity of your home.

CALL NOW FOR A FREE ESTIMATE 1-888-443-3110