Preventing Mold in the Kitchen Safety
The kitchen is one of the most heavily used areas in the home or workplace.  It is also moisture prone due to all the activity that takes place from cooking, baking, and boiling to running water, washing dishes, and the use of kitchen appliances.  With all this going on, this can be a breeding ground for mold.
While preparing meals in the kitchen, keep the area as dry and cool as possible by using ceiling fans and stove exhaust fans to funnel and keep the air ventilated.
Kitchen appliances should be maintained and watched for leaks that might occur from dishwashers, garbage disposals, refrigerators, and water lines.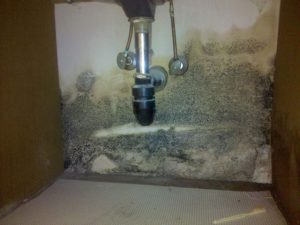 Areas around the sink are constantly wet from use.  Mold can grow quickly around the faucet area where water gets splashed or where water drains on dish mats, utensil trays and counter tops.  Drying up the excessive water and cleaning with bleach, detergents, or antibacterial solutions will prevent mold from growing.
Another area that may be ignored is the refrigerator door.  Mold can hide and grow on door binding.  This area can be cleaned with a q-tip and bleach to prevent mold growth.  Inside the refrigerator can be even more inviting to mold.  Different types of foods and those foods that have spoiled set up the condition for mold to grow.  Regular cleaning and removal of food before it spoils prevents mold from growing inside the refrigerator.
Mold can also grow inside cabinets where canned foods, flour, sugar, spices, etc, are kept. Removing these items and cleaning the area can prevent mold from growing.
Check underneath the sink for leaks and where condensation has taken place.  Keep the area dry and clean to prevent mold.
If some of these simple steps do not eliminate the spread of mold, a contractor should be called in for a mold inspection.
Wherever there is moisture left unattended, mold will soon follow.  Therefore, preventing mold in the kitchen can be accomplished by maintaining a dry, cool atmosphere.
If you have mold or water damage, call Restoration Local 24/7 at 1-888-443-3110 for a free estimate!