Steps to Take After A Fire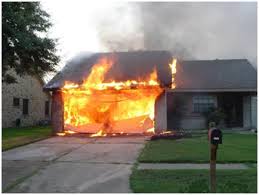 When fires break out, they can quickly become lethal – within a matter of minutes. Just recently, there was a kitchen fire in a Las Vegas apartment that sent one person to the hospital and caused over $20,000 in damages. This was the third kitchen fire in Las Vegas within 24 hours. There are many simple and effective ways to help prevent kitchen fires and house fires in general. Pay attention to your fire safety in the kitchen – kitchen fires are the leading cause of fires in the country in addition to the leading reason for fire injuries. Failure to be safe can cause thousands of dollars in fire damage. The restoration process is neither cheap nor quick because proper fire restoration must take stock of the damaged property, clean out the initial fire damage, and remove the lingering smoke residues and odors from the property.
If a fire is serious enough, you may have to evacuate your home due to the damage. Make sure that you have a proper fire escape plan in place for your property. This includes drilling family members on the most efficient ways to get outside quickly and safely. Be sure to review general fire safety rules, such as staying low to the ground, avoiding doors that are hot, and abiding by the "stop, drop, and roll" technique if your clothing catches on fire.
When you have a house fire, there are several things you need to do. Always listen to your local fire department and insurance adjustors to make sure that you and your family are safe. Next, make sure that your property is secure. After a fire, you run the possibility of individuals taking advantage of your troubles – be sure to leave your property secured if you are unable to inhabit it. Likewise, ensure that all major utilities are shut off. This includes water, gas, and electricity, as any of these utilities can cause serious or additional damage if they were damaged during the fire. You should call your insurance company as soon as possible so that they can take stock of the total amount of damage. Anything damaged in the fire will be assessed and properly recorded for your compensation.
At the same time, it is highly recommended that you contact a local fire restoration company. The damage that occurs after a fire increases as time passes. Between the actual flame damage, the remaining soot and smoke residues, and the chemicals or heavy amounts of water used to put out the fire, your personal belongings may be unsalvageable if you wait too long. Your insurance company can often recommend local fire restoration companies that have their approval for fast and efficient work.
While you wait for the processionals, there are a few things that you can do. Take the time to air out as much of the building as possible, using dehumidifiers, large fans, and open windows. Since soot and ashes will most likely be pervasive, take care to avoid further spreading their stains – the more you rub it in, the harder it is to remove. Soft materials like carpeting, fabrics from furniture and curtains, and clothing can often be restored by a professional cleaner, if they were only exposed to smoke damage. Take care to inspect all areas of your home for structural damage as well.
If you have fire damage, call Restoration Local 24/7 at 1-888-443-3110 for a free estimate!