Surveying Fire Damage After the Fact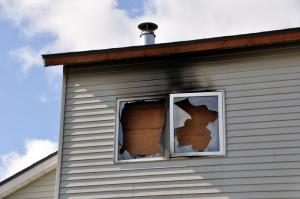 The aftermath of a house fire is a delicate time for you and your family. It is important to keep safety in the forefront of your mind. You should avoid inspecting the fire damage to your home until after you have called a fire restoration company if you have any doubts about your ability to inspect for structural integrity or safely locate hazardous areas around your property. You may make the situation worse for yourself or even create additional fire damage if you are not cautious. Immediately after authorities have left your property, you should make sure to walk around the property and note dangers such as possible flare ups and fallen power lines and poles. It is possible that anything flammable on your property was damaged in the fire and it is necessary to identify these areas, if only to avoid them for your own safety.
It is prudent to recheck your property not only for fire and smoke damage but also possible water damage or other types of damage. Ensure that your utilities – power, water, and gas – are safely shut off. If the Fire Department has already visited your property, most of these utilities should have already been turned off. They might not have been restored if the fire and smoke damage was extensive. Do not turn utilities back on unless you are certain that your property was inspected thoroughly. It is always best to defer to the judgment of a professional fire specialist or the authorities like the Fire Department.
Estimating the extent of your fire damage is straightforward but can become complicated. You should contact your insurance company to have an appraiser survey your property and its damage. You should also hire a fire restoration company to back up your claims. Hiring a fire damage appraiser can greatly help the communication complexities between your insurance company and you. Your insurance covers a certain amount of the damage based on a multitude of factors ranging from property value to the cause of the fire damage. This covers the damage to your home only – everything else must be calculated separately, although insurance companies may reimburse you for the cost of hiring a fire restoration company. Hiring a professional is the easiest course of action in these instances as you must figure out the cost of the fire damage to any possessions damaged as well as home repairs. Everything from paint and roof repairs to eliminating the smoke damage must be taken into account in order to retain a full accounting of your insurance claims.
You may wish to calculate the total damage a fire has inflicted to your property, including your belongings and surrounding property. Professional estimators can calculate the total amount of your fire damage as well but be aware that this is a different cost from your house's fire damage.
If you have fire damage, call Restoration Local 24/7 at 1-888-443-3110 for a free estimate!