Safety Tips for Monsoon Season Across the Southwest: Understanding the Risks of Monsoon Storms and How to Prevent Floods and Water Damage
Monsoon season has officially begun in Phoenix, Arizona and across the American Southwest. Recently high winds, heavy rains, and dust walls interrupted traffic, left tens of thousands of customers without power, and caused wind and water damage to property across Southern Arizona. If you live in the Southwest, it's important that you understand the dangers of monsoon storms and how to protect yourself and your property from floods and water damage.
Get a free estimate on monsoon storm damage. Call
1-888-443-3110
now for a contractor near you.
Storms Hit Phoenix to Kick Off the Southwest Monsoon Season
The 2018 North American monsoon season has already started off strong, bringing three days of intense rain and dust storms to Phoenix, Arizona. The storms brought more than an inch of rain, the first precipitation Phoenix has seen in 119 days.
The first storm was the most intense, causing an epic and potentially record-breaking dust storm. Nearly a mile tall at its peak, the wall of dust traveled more than 200 miles across Arizona before finally dissipating near Imperial, California.
The City of Phoenix released an amazing time-lapse video of the historic storm rolling in. It's possible that it may have been even larger than the storm that virtually swallowed the city whole in July of 2011.
Heavy rains flooded roads and highways, causing backups and slowdowns across the region. Strong winds knocked out power throughout the area, leaving thousands in Phoenix, Mesa, and Apache Junction without out electricity.
While there has been significant storm damage, thankfully no fatalities have been reported so far. Extended forecasts indicate the possibility of
more severe storms throughout Arizona and the Southwest over the next few weeks.
What is a Monsoon
In English, monsoon is derived from the Portuguese word monção or possibly the Dutch word monsun. The origins of the word monsoon likely came from the Arabic word mawsim, meaning season, or the Hindi word mausam, meaning weather.
Traditionally, a monsoon described seasonal reversing winds and heavy precipitation. With a better scientific understanding, we now know monsoons are actually seasonal changes in atmospheric circulation and precipitation caused by the uneven heating of nearby bodies of land and water.
We typically associate the term with a rainy period, but monsoons technically a dry period as well. The word is often incorrectly used to describe short, but very intense storms with heavy rainfalls.
During the North American monsoon, intense solar heating during summer months causes a shift in wind patterns. Winds reverse flow, blowing from moist ocean areas into the drier inland areas of the Mexican Plateau and the Southwest of the United States.
While not as intense or persistent as their African or Asian counterparts, the North American monsoon brings strong winds, severe rain, dust storms, and even flash floods to Arizona, New Mexico, other parts of the American Southwest, and northwestern Mexico.
Locally this monsoon is often referred to as the Southwest monsoon, the Arizona monsoon, the New Mexican monsoon, or the Mexican monsoon. The National Weather Service lists monsoon season June 15 through September 30, with the majority of the activity falling between early July and mid-September.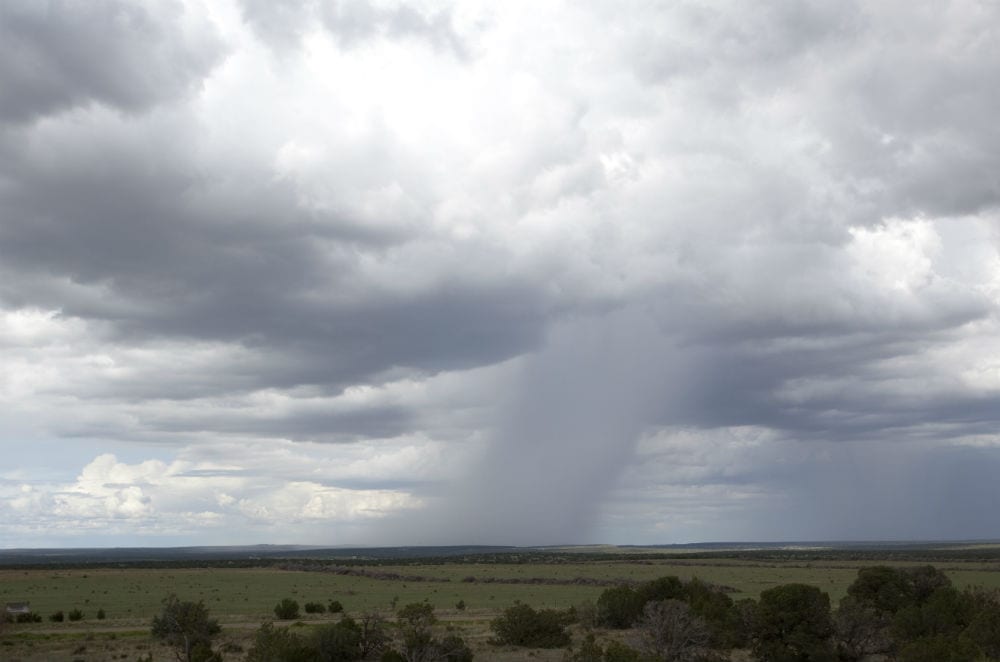 By Leaflet – Own work, CC BY-SA 3.0, Link
Storms During the Southwest Monsoon
Storms during the Southwest Monsoon often form very quickly across Arizona and New Mexico. They usually include intense winds, heavy rainfalls, thunder, lightning, and dust walls, but can vary by area and from season to season.
Microburst storms are quite common during the monsoon season. Unlike the circular rotation of tornado winds, a microburst pushes air in a downward motion. As these winds reach ground level, they radiate outward in all directions from a central point
Not only can a microburst cause significant property damage, these intense winds can also create dust or sand storms called haboobs. These dust walls can move extremely quickly, significantly reducing visibility or even blinding you all together. While heavy rain and dust storms can occur at the same time, they usually occur at separate times during the same storm front.
Haboobs are extremely common in the deserts of Arizona and New Mexico, including Yuma, Phoenix, and Albuquerque. They also occur across eastern California and across the state of Texas. In more rare cases, they can happen in the Columbia Basin of Eastern Washington, including Spokane, and parts of Northern Idaho, including Post Falls and Moscow.
While monsoon rains account for more than half of the annual precipitation across the Southwest United States, they also tend to cause flash floods. The climate is hot and dry, which leaves the soil too dry and compacted to effectively soak up rainwater. Flash floods can wash out roads and create dangerous driving conditions and may even cause water damage to homes or commercial properties.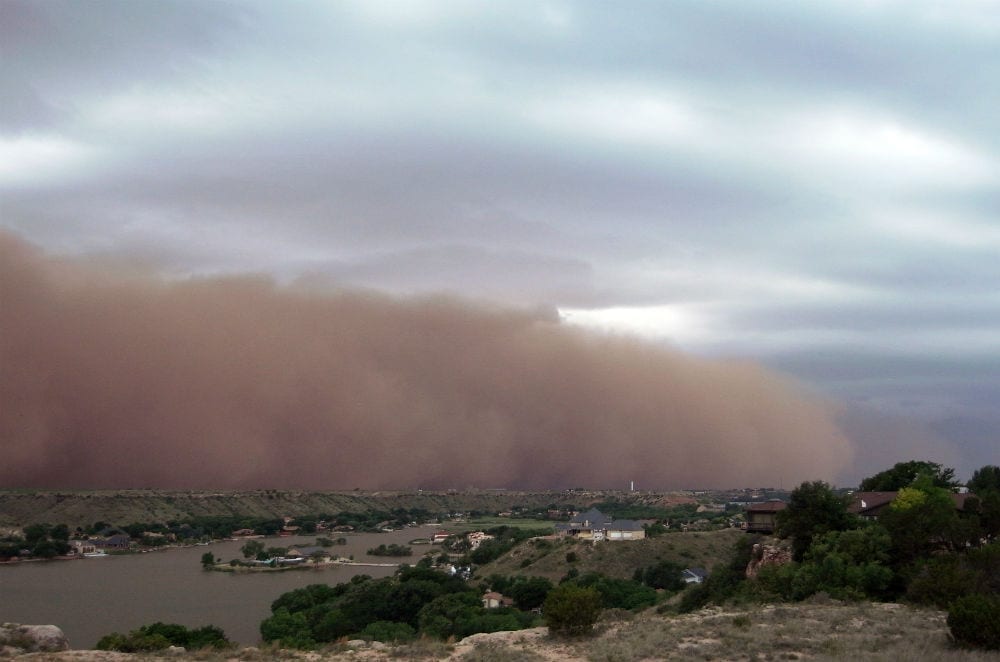 By Leaflet – Own work, CC BY-SA 3.0, Link
Areas Prone to Monsoons
North American monsoons are common through the southwest beginning in early July and continuing through mid-September. While monsoons are most common in Arizona and New Mexico, they occasionally affect the southwest part of Texas, the southern parts of Nevada, Utah, and Colorado, and the southeast part of California.
Arizona monsoons commonly impact Maricopa and Pima counties, bringing heavy rains, flash floods, and dust storms. Aside from Phoenix, monsoons have caused significant storm damage and flooding in Tucson, Mesa, Chandler, Glendale, Scottsdale, Gilbert, and Tempe over the last several years.
Southwest New Mexico, including Las Cruces and the surrounding areas of Doña Ana, Sierra, Luna, and Otero counties, tend to feel the brunt of New Mexican monsoons. However, the monsoon can impact Albuquerque, Rio Rancho, Sante Fe, Rowell and other areas as well.
Potential Health Risks
The extreme heat, relatively high humidity, and dust storms can create potential health risks for people with asthma, allergies, and upper respiratory conditions. Stay indoors whenever possible. If you have to go outside, place a damp rag over your nose and mouth to prevent breathing in dust.
With daytime temperatures in the 100's, it's also extremely easy to overheat and become dehydrated. To avoid heat stroke, drink plenty of fluids and seek cool public spaces if your power is out. If you do not have access to air condition, wrap a damp towel around your neck or put ice packs behind your knees or under the armpits.
Dangers of a Monsoon Storm
Storms associated with monsoons can be extremely dangerous, so it's important you know how to stay safe and prevent damage when they occur.
Heavy Rains
Heavy rains make driving dangerous and may cause flash floods that can damage properly. Always check weather reports before driving and wait until storms pass whenever possible. Turn on your headlights and drive slowly if you absolutely need to drive during a rain or thunderstorm. Avoid driving on flooded roads whenever possible. Approximately half of all flood-related fatalities happen as a result of driving through flood waters.
You can use sandbags to divert water from your home or business whenever possible to prevent water damage. Fire stations throughout Phoenix, AZ typically provide free sand during monsoon season. Contact your local fire station for more information. The City of Mesa, AZ also provides free sand and sandbags. Review their detailed guide about sandbags and storm preparation.
Strong Winds
During an intense storm, winds may vary from 40 to 100 miles per hour. They can bring down power lines, damage trees, break windows, and even knock over large or top heavy vehicles. Move to an interior room with no windows if the wind picks up when you are home. Seek shelter if you are outside. If you are driving, slow down until you can safely control your vehicle or even pull over to the side of the road and wait it out.
Dust Storms
Remain indoors and never try to drive during a dust storm, as visibility is significantly reduced. If you are driving and see a dust storm moving in, pull over to the side of the road. If possible, try to make it into a parking lot or side street. Put your car in park and leave your seatbelt on. Should you need to pull over on the highway, move as far to the right as possible. Keep your foot off of the brake and your other lights off so other drivers don't try to follow you.
Flood Water Removal and Water Damage Restoration in Your Area
Floods and storm damage are extremely frustrating. Let us give you peace of mind after a storm or flood during monsoon season. As the #1 network of restoration companies, our directory has listings form independent companies and many popular franchises in your area.
Find a local water damage company now, including franchises like AdvantaClean, DKI Restoration, Rainbow International, Restoration 1, and ServiceMaster. For immediate service, call 1-888-443-3110 now for a free estimate from our on-call contractor.