The Cost of Biohazard Cleanup
Restoration Local® Benefits: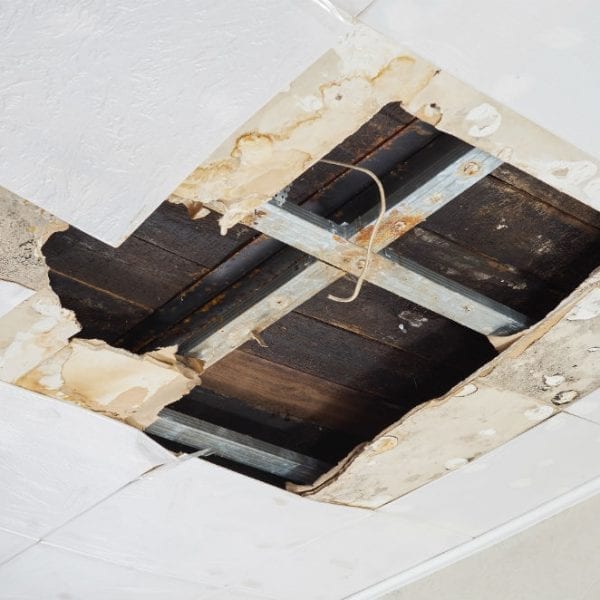 Although it's usually easy to tell when you have a ceiling leak, it can be much more difficult to locate
The Cost of Biohazard Cleanup
Even in the aftermath of a tragedy or accident, it's common to worry about the cost of biohazard cleanup. The national average biohazard cleanup cost is $233 per hour per technician, with most jobs requiring at least 2 technicians. Unfortunately, it's difficult to provide an exact price for biohazard cleanup or even an accurate estimate over the phone. However, any reputable company will offer an on-site assessment and estimate for biohazard cleanup.
Call
1-888-443-3110
now for 24-hour emergency response and a free estimate on biohazard cleanup from a contractor near you.
How Much Does Biohazard Cleanup Cost?
Because no two situations are the same, it's hard to provide a detailed biohazard cleanup cost. Due to the health risks associated with the cleanup process, the price of biohazard cleanup is usually more expensive than other restoration services. You should expect to pay between $2,500 and $5,000 on the low end with prices going up from there.
Since biohazard contaminations pose a health risk to you and the technicians performing the work, they need to follow strict safety protocols. In addition to setting up a safety quarantine zone to prevent the spread of biohazards during removal, they also need to wear extensive personal protective equipment. This equipment prevents them from contamination as they remove and clean up biohazards.
Most businesses charge between $150 and $300 per hour for each technician for specialized biohazard removal and cleanup. In addition to the labor charges, there are also fees for disposal of contaminated materials. These items are put into biohazard waste containers and disposed of following industry standard procedures. The cost of disposal varies depending on the size of the container and the number of containers required.
What Determines the Price of Biohazard Cleanup?
Biohazard cleanup costs depend on a variety of different factors. Your technician will assess the scene and provide an estimate for biohazard cleanup based on the following factors. Depending on the situation, other factors may also determine the overall price. If necessary, your technician will explain those as part of the estimate.
Size of the Area Affected
Understandably, it will cost more to clean up an entire room or multiple rooms than just a small section of a single room. Additionally, larger amounts of contaminants also will impact the price of biohazard cleanup.
Length of Time
The longer biohazard contaminants set, the greater the risk of them spreading or seeping into other materials. Porous materials like drywall, carpeting, mattresses, and fabric are more likely to absorb contaminants.
Amount of Reconstruction
Finally, the amount of reconstruction necessary to return your property to its original condition also factors in the over cost. From replacing carpeting to completely rebuilding portions of a room, the required reconstruction will vary situation to situation.
Does Insurance Cover Biohazard Cleaning Costs?
Depending on the situation, your insurance may cover biohazard cleaning costs. Many homeowners' policies include coverage for crime scene cleanup as well as in the case of a suicide or homicide. Review your insurance policy for complete details and contact your agent if you have questions. If you are filing an insurance claim, your technician can work directly with your company if you would prefer.
How Do I Get the Best Price on Biohazard Cleanup Services?
Obviously, everyone wants the lowest possible cost for biohazard cleanup. While you should choose a company you are comfortable working with, know that no biohazard company will be able to provide a fixed price for work. They will do their best to provide the most detailed estimate possible, it's likely they will find something else during cleanup.
For the lowest biohazard cleanup cost, contact a company quickly after a traumatic event. This will limit the spread of contaminants and help keep the cost as low as possible. As the largest network of restoration contractors, we make it easy to choose a biohazard cleanup company in your area. For immediate service, call 1-888-443-3110 to speak with our on-call contractor in your area.
Why Your Location Doesn't Impact the Cost of Biohazard Cleanup?
Although you may think the distance between your property and the cleanup company will impact price, this is not the case. Distance and location are not factors that play into the estimate for biohazard cleanup. You will always get a free estimate from the on-call biohazard contractors in our network and they never charge a trip fee for their services.
Call 1-888-443-3110 Now for a Free Estimate on Biohazard Cleanup
As the largest network of restoration contractors, we work with biohazard cleanup companies across the country. You can choose a local biohazard company, including independent contractors and the most popular brands like X, from our listings now. If you need immediate service, call 1-888-443-3110 to speak with our on-call biohazard cleanup company in your area.
Our Biohazard Cleanup Services
Reviews From Satisfied Restoration Local® Customers
L. Milner from Arnold, PA
Restoration Local was very easy to deal with. They were quick to schedule time for my issue. I will definitely work with restoration Local again in the future.
Linda B.
They went beyond what they needed to do. Great company.
D. Cambell from Whidbey Island, WA
The Restoration Local team was so friendly and efficient. Mike was able to get us scheduled and resolve our issues. I will be using Restoration Local again.