Refrigerator Failure Cleanup
Restoration Local® Benefits: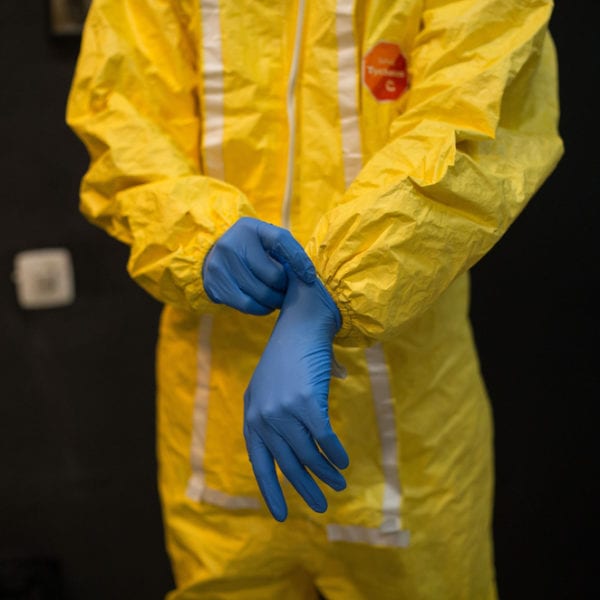 Biohazards are any substance that is dangerous to humans and pets. These include bloodborne pathogens like hepatitis and MRSA that
Refrigerator or Freezer Failure Cleanup Services
A refrigerator or freezer failure can lead to spoiled food, causing smells or mold within a few hours. There is a potential for a health risk if the unit is not cleaned up quickly. While you can easily clean a failed refrigerator by yourself after just a few hours or a day, a unit that has gone days or weeks without power is likely to require more extensive cleanup.
Types of Refrigerator or Freezer Failures
Accidental Unplugging
Most issues with refrigerators and freezes are caused by them being accidentally or unintentionally unplugged. If the unit is located in an isolated area, it may go undiscovered for an extended time.
Mechanical Failures
Another common cause of a freezer or refrigerator failure is a mechanical failure. As with an accidental unplugging, the issue is likely to go unnoticed if the unit is located in an isolated area. This is often the case with older units in the home of elderly individuals.
Power Outages
Refrigerator and freezer failures associated with power outages are usually not a problem, but enough time can cause food to spoil. If power is not restored quickly enough, smells are likely to develop and mold may even grow.
Natural Disasters
While natural disasters are less common, they often cause the most extensive damage. Prolonged power outages associated with hurricanes and tornadoes can allow food to spoil for days or even weeks, leading to potential health risks.
Hazards Caused By Spoiled Food
After a failure, a refrigerator can keep food safe for up to 4 hours. Half-full freezers will remain safe for up to 24 hours, with full freezers lasting 48 hours. Outside of those windows, food will begin to spoil and is unsafe to eat.If the food sits long enough, it will begin to decompose. As this happens, it will begin to liquefy and can seep throughout your freezer or refrigerator. Food may also release strong and unpleasant odors.If food has begun decomposing, removing and cleaning can be potentially dangerous. In addition to mold, spoiled food may contain Clostridium, E. coli, Giardia, Listeria, Salmonella, Staphylococcus, and Trichinella. These bacteria and parasites can cause a variety of illnesses including food poisoning, botulism, and infections.A failed refrigerator or freezer may also attract rodents and insects. However, this is more common with commercial units in restaurants or grocery stores. Flood waters from hurricanes and other natural disasters increase the risk of contamination and may even help pathogens spread throughout your property as well.
Cleaning Up After a Freezer and Refrigerator Failures
Cleaning up spoiled food from a refrigerator or freezer failure may seem easy enough, but odors, pathogens, and mold can persist. Our biohazard cleanup crews are trained in handling the potentially hazardous contents of a failed freezer or refrigerator.In addition to the removal of spoiled food, they use professional cleaners and sanitizing agents to eliminate potential health risks. This includes both the inside and outside of the unit as well as the surrounding area. Finally, we will use a variety of odor removal techniques to prevent lingering odors.
Call Now for Refrigerator or Freezer Failure Cleanup Services
The cleanup teams in the Restoration Local network will remove spoiled food and other contaminants after a freezer or refrigerator failure. Cleanup includes disposal and decontamination to prevent future contamination or illnesses.In addition to freezer and refrigerator cleanup, we also offer other 
biohazard cleanup
 services, including drug lab removal, suicide scene cleanup, infectious waste removal, and unattended death cleanup.Let our compassionate and dependable restoration specialists give you peace of mind in an emergency. Call 
1-888-443-3110
now for a free, no-obligation estimate. We always offer 24-hour emergency service and a 30-minute response time.
Our Biohazard Cleanup Services
Reviews From Satisfied Restoration Local® Customers
L. Milner from Arnold, PA
Restoration Local was very easy to deal with. They were quick to schedule time for my issue. I will definitely work with restoration Local again in the future.
Linda B.
They went beyond what they needed to do. Great company.
D. Cambell from Whidbey Island, WA
The Restoration Local team was so friendly and efficient. Mike was able to get us scheduled and resolve our issues. I will be using Restoration Local again.