Restoration Local® Benefits: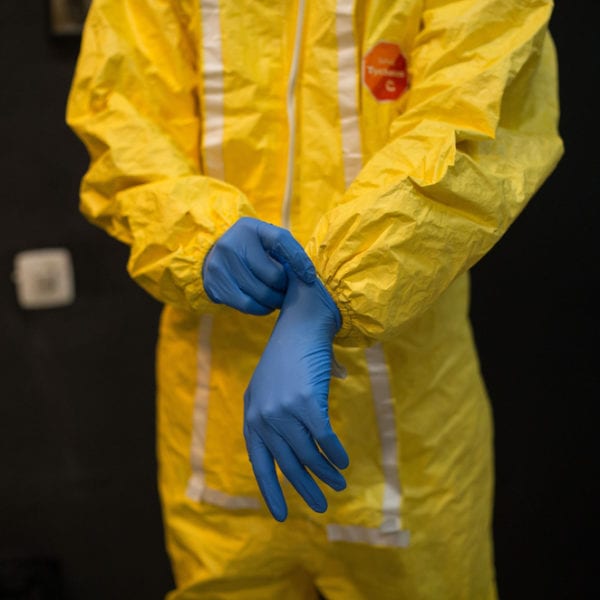 Biohazards are any substance that is dangerous to humans and pets. These include bloodborne pathogens like hepatitis and MRSA that
Drug Lab Cleanup Services
The on-going drug crisis has let to an increase in illicit drug labs across the country. From methamphetamine to heroin, clandestine drug labs can be set up in homes, warehouses, or even hotel rooms quickly and often go unnoticed. The chemicals involved in illegal drug production pose a significant health risk and may even cause fires or explosions. While marijuana growing facilities may seem safer, fertilizers and grow lights can cause fires.
Risks of Exposure to Drug Chemicals
In addition to the drugs themselves, the chemicals involved in the production of drugs are often hazardous. Even the byproducts from drug laboratories can be harmful if inhaled, ingested, or absorbed through the skin.These chemicals, drugs, and byproducts can easily spread throughout the room and coat any surface. Porous materials like carpeting, fabric, upholstery, drywall, and cabinets are more susceptible to contamination. They may also settle on hard surfaces like glass, plastic, and stone.While the risk of exposure varies by the substance involved, common symptoms include intoxication, difficulty breathing, headaches, and nausea. Prolonged exposure can cause liver damage, neurological problems, and increased cancer risk.
Methamphetamine Lab Cleanup
The production of methamphetamine requires a number of chemicals that are hazardous on their own. Not only can they cause intoxication and health risks, but they also may lead to explosions or fires. Methamphetamine itself is also an intoxicant that can be ingested or inhaled.Removing an illegal methamphetamine drug lab requires extensive ventilation, cleanup, and sanitization to prevent future contamination. Our biohazard cleanup crews are trained in using the specialized equipment necessary to remaining traces of the drug and chemicals. Our process complies with federal and state laws.
Heroin and Fentanyl Lab Cleanup
Heroin and fentanyl use is on the rise, which has resulted in an increase in clandestine drug labs. While they require fewer chemicals to produce, both drugs are potent intoxicants.Although they are typically taken intravenously, heroin and fentanyl can be absorbed through the skin, as well as inhaled and ingested. Fentanyl is 50 times stronger than heroin, so even a few grains are sufficient to cause an overdose.Due to their potency, it's important that heroin and fentanyl labs be properly cleaned up. This includes properly decontaminating the area to remove any trace of heroin or fentanyl.
Marijuana Grow Lab Cleanup
Since marijuana is a plant and does not require chemicals to produce, many assume cleanup is easy. However, marijuana plants require lots of water, plenty of light, and humid conditions. These humid conditions may result in mold growth.Many marijuana growing labs also make illegal electrical connections to support the extensive light needed to speed production. This poses a significant risk of fire. Fertilizers can also increase this risk or even lead to an explosion.Marijuana drug lab cleanup includes professional removal and decontamination, as well as a check of electrical and structural systems to ensure there are no lasting issues.
Call Now for Illegal Drug Laboratory Cleanup Services
Due to the risk of intoxication, you should never attempt to clean up a clandestine drug lab on your own. Our illegal drug lab cleanup professionals will decontaminate your home or business.In addition to drug lab cleanup, we also offer other 
biohazard cleanup
 services, including suicide scene cleanup, infectious waste removal, and unattended death cleanup.Let our compassionate and dependable restoration specialists give you peace of mind in an emergency. Call 
1-888-443-3110
now for a free, no-obligation estimate. We always offer 24-hour emergency service and a 30-minute response time.
Our Biohazard Cleanup Services
Reviews From Satisfied Restoration Local® Customers
L. Milner from Arnold, PA
Restoration Local was very easy to deal with. They were quick to schedule time for my issue. I will definitely work with restoration Local again in the future.
Linda B.
They went beyond what they needed to do. Great company.
D. Cambell from Whidbey Island, WA
The Restoration Local team was so friendly and efficient. Mike was able to get us scheduled and resolve our issues. I will be using Restoration Local again.