Industrial Accident Cleanup
Restoration Local® Benefits: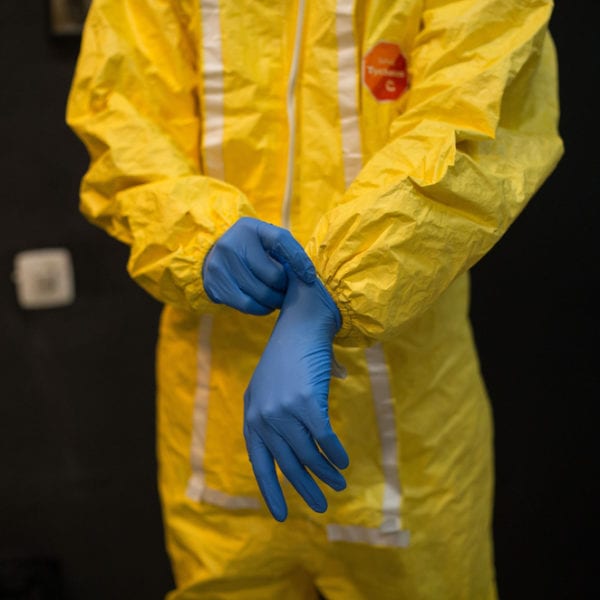 Biohazards are any substance that is dangerous to humans and pets. These include bloodborne pathogens like hepatitis and MRSA that
Commercial or Industrial Accident Cleanup Services
In the aftermath of a commercial or industrial accident, there may be blood, body tissue, or chemical spills that need to be safely removed from the scene. If these aren't cleaned up quickly, they are likely to endanger your employees and customers.
Blood and Biohazard Cleanup Services
Both the EPA and CDC caution against trying to clean after up a commercial or industrial accident on your own. Not only is direct contact with blood and other biohazards dangerous for your health, but it is easy to overlook contaminated areas.There are many diseases which are transmitted through blood, such as HIV/AIDS and MRSA. The biohazard cleanup contractors in the Restoration Local network are trained in proper cleanup procedures. They also have the appropriate protective gear to prevent the spread of biological hazards.Our trained biohazard removal contractors will remove blood and biological matter. This includes cleaning, disinfecting, and sanitizing the affected area. We comply with federal and state regulations and follow all industry safety guidelines. Our cleanup is fast and discreet so you can resume normal operations as quickly as possible.
Call Now for Commercial and Industrial Accident Cleanup Services
There is a potential risk of cross-contamination when blood, bodily fluids, or body tissue are involved. Our biohazard cleanup contractors are trained to remove blood and bodily fluids and decontaminate the area.Our experienced restoration crews will safely clean up blood and organic material and sanitize the area to prevent contamination. We also offer complete restoration services if necessary, including replacing carpeting, hanging new drywall, and restoring hardwoods.In addition to commercial and industrial accident cleanup, we also offer other 
biohazard cleanup
 services, including suicide scene cleanup, infectious waste removal, and unattended death cleanup.Let our compassionate and dependable restoration specialists give you peace of mind in an emergency. Call 
1-888-443-3110
now for a free, no-obligation estimate. We always offer 24-hour emergency service and a 30-minute response time.
Our Biohazard Cleanup Services
Reviews From Satisfied Restoration Local® Customers
L. Milner from Arnold, PA
Restoration Local was very easy to deal with. They were quick to schedule time for my issue. I will definitely work with restoration Local again in the future.
Linda B.
They went beyond what they needed to do. Great company.
D. Cambell from Whidbey Island, WA
The Restoration Local team was so friendly and efficient. Mike was able to get us scheduled and resolve our issues. I will be using Restoration Local again.